Chandler United Methodist Church
Home - Chandler United Methodist Church
Church at 450 East Chandler Heights Road, Chandler, AZ 85249
---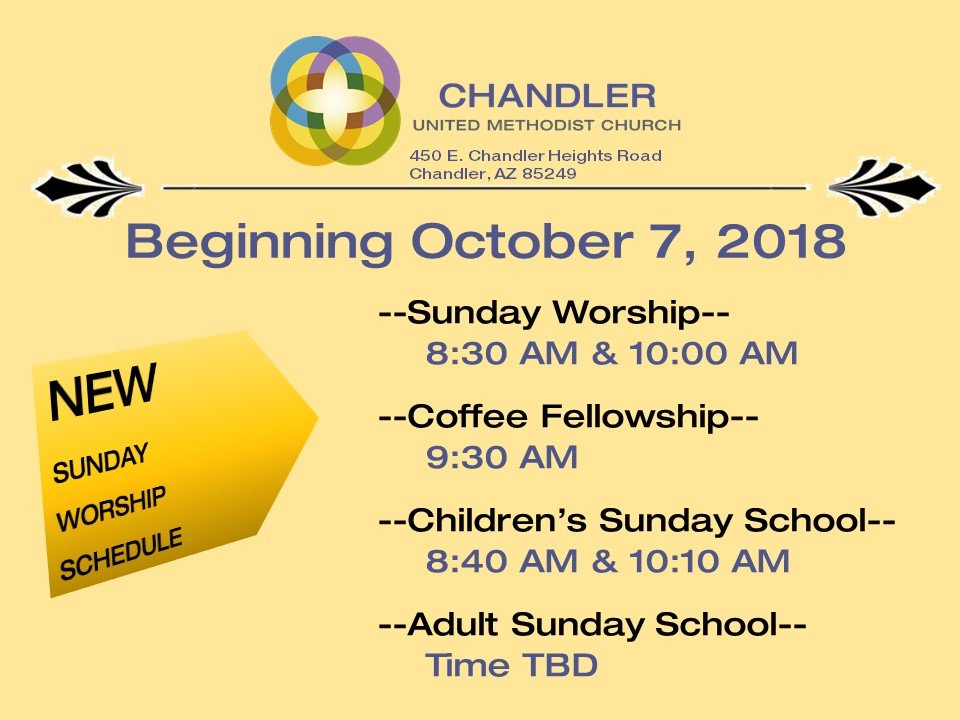 Chandler United Methodist Church contacts
Chandler United Methodist Church rating
★ ★ ★ ★ ★ (4 reviews)
How would you rate Chandler United Methodist Church?
☆
☆
☆
☆
☆
Vacancy Chandler United Methodist Church (jobs):
Coming soon
Advertisement
Chandler United Methodist Church photos
Make a Donation to help this Church website!
Your donation will help further our mission to share information about Chandler United Methodist Church on site alluschurches.com and add services for the Church. Your donation will also help humanitarian services and coronavirus pandemic aid.

Last reviews about Chandler United Methodist Church
in Chandler, AZ
Add your review. Your feedback helps to get feedback and an honest opinion about the Chandler United Methodist Church.
Thanks to the reviews, people get the knowledge of mistakes or warmth and delight of gratitude.
★ ★ ★ ★ ★

I have been attending Chandler United Methodist for more than two years and I love this church. We have so many opportunities to get involved in Christian activities -- social, service, and mission. I serve on our Missions Team, which is open to anyone who would like to join. Our Missions Team reaches out to organizations throughout our community, serving through donations and hands on activities. For example, we have partnered with Save the Family to clean apartments for people who are moving from being homeless into a comprehensive transitional housing program designed to get families back on their feet, in the workforce and in their own independent home. Additionally, Pastor Jonathan gives thought-provoking sermons that make you rethink your beliefs and strengthen your faith. I recommend CUMC to anyone seeking a new church family.

Added May 01, 2017 by Penny Boese

★ ★ ★ ★ ☆

Great church with an amazing pastor who delivers a sermon that has you feeling filled with the Spirit when you leave.

Added March 28, 2017 by Nicole Williams

★ ★ ★ ★ ★

This is some of the most engaging, most profound biblical preaching that I have ever heard in my life--and it happens Sunday after Sunday after Sunday! We are talking DEEP! This is transformative preaching. You will walk out of church looking at life in a different way.

Added March 11, 2017 by Jonathan Massey

★ ★ ★ ★ ★

A great medium-sized Church with a pastor who gives fantastic sermons. Stay for a service on Sunday and join the congregation for refreshments after.

Added October 07, 2016 by Collins Ezeanyim
How would you rate Chandler United Methodist Church?
☆
☆
☆
☆
☆
Chandler United Methodist Church website info
Website address: chandlermethodist.org
Website title: Home - Chandler United Methodist Church